News
•July 23, 2014 - The Wiki reaches 200 articles!
•July 4, 2014 - First anniversary of Camp Lakebottom!
•June 14, 2014 - First anniversary of Camp Lakebottom Wiki!
News archive
Links
Official Sites
Affiliates
None
Contribute to this wiki
If you are new to wikis, check the getting started information page.
Check out the community portal to see what the community is working on, to give feedback or just to say hi!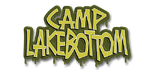 Featured Article: December

Suzi is McGee's, high-strung, manipulative, annoying older sister. Small in body with a giant personality to say the least. She is spending her summer at Camp Sunny Smiles, with the "cool" kids away from her baby brother. Sunny Smiles is sparkling new, and has all the trendiest amenities you could think of. Being the ultimate girly girl pageant winner, the best way to get her attention is to talk about, well, her!
Featured Character
Who should be the featured character of October 2014?
Poll
Are you excited for new episodes?
[Template fetch failed for //community.wikia.com/wiki/Template:DisneyWikis?action=render] de: it: es: fr: